Sie sind hier:

UNSPOILED BEYOND ADVENTURES ARE WAITING!
EXPLORE THE ALPS - AFRICAN HIGHLANDS - GEORGIA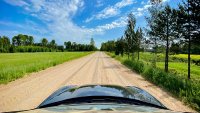 Yes, the summer is coming closer, the world is waking up and it is time to feel the wind in your face as you drive on your next Beyond Adventure!
Do you desire the world of Driving Adventures filled with breathtaking landscapes and memories that will last forever? Then experience this first hand with Jan Kalmar Beyond Adventure. We dare to challenge conventional automotive events through our unique and bespoke driving concepts and by creating Adventures which most consider impossible - Welcome to our World…
THE ALPS-CROSSING - 24th - 30th JULY, 2021
The Alps-Crossing is truly a bucket-list-worth experience you did not know about. Find your way among the highest mountains in Europe using nearly unknown passages and not the tourist Alps many know. Drive amazing but challenging gravel roads and mountain passes - We ourselves could hardly believe these amazing routes exist so close to the civilized world, and this is usually a good indicator that this is special.
Enjoy astonishing views that will take your breath away and fill your days with evenly shared adrenaline and relaxation.

All of this behind the steering wheel of our Porsche 911 (964/993) KALMAR RS or Porsche Cayenne KALMAR CS. An adventure hard to believe.
6 days (5 driving days) | ~1,022 KM
AFRICAN HIGHLANDS 31st AUGUST - 10th SEPTEMBER, 2021
Let us amaze you with the extraordinary world found in the heart of Africa and a one-of-a-kind opportunity to self-drive through Rwanda & Uganda! It will wake your inner adventurer when cruising along the famous red African gravel roads and raise your pulse when getting up close and spotting endangered wildlife in the unfenced national parks!

Look forward to driving through marvelous landscapes with volcanic mountains, lush jungles, tea plantations, never-ending savannahs, diverse flora and fauna, lakes and wild rivers. Simply views over imagination. With Beyond Adventure you will explore those countries in a different way as you will drive solitary and at your own pace – yet you will be guided by our well-proven and self-developed navigation system. Still, the support team is always close by.
Expect to see lions, elephants, rhinos, hippos and other animal life. But without a doubt, the true highlight is the close encounter with the mountain gorillas.

Accommodations are nothing short of spectacular. From top-class jungle estates to unique "in-the-middle-of-the-Nile-river-resort". There is no better place than only the best.

10 days (8 driving days) | ~ 2,000 KM
GEORGIA - 17th - 24th SEPTEMBER, 2021
Stunning, warm-hearted, tasty, magical - this is Georgia, that you will get to know with us! From the fantastic mountains of Georgia to its beautiful Black Sea coastline of Batumi - discover the charm of this blooming Ex-Soviet country on 4 wheels while enjoying the warmhearted people, local food, culture and get connected with amazing nature.

The chosen rough roads and unusual routes are surely not the common choices of the average traveller. Be prepared for muddy puddles, rocky driveways and river crossings. All accompanied by breathtaking views which will for sure stay forever.
With Beyond Adventure expect the unexpected!

Being part of Beyond Adventure Georgia will change your view on this entire region. It is far away from the picture most of us got from the media – join us and create your own image of Georgia!

8 days (6 driving days) | ~ 1,800 KM
Join us to the edge of the world!
OUR FLEET

Extraordinary driving adventures demand extraordinary vehicles perfectly suited for the challenges.

Porsche 911 (964/993) KALMAR RS

Re-engineered well-proven Porsche 964/993 so they can be used in adventurous environments normally not visited. Rally prepared, special wheels, roll cages, underbody protection, lifted rally shock absorbers etc.

Porsche Cayenne KALMAR CS

Made for adventure and delivering off-road performance beyond your expectations and simply tailored for challenges for epic overland driving! Full underbody and front protection, mud-terrain tires, light weight reduction etc.
We are currently reworking our 3-year post Covid event-plan. Stay tuned for more Beyond Adventure announcements to come very soon!