Sie sind hier:

SPIRIT OF SPEED
Buckle up and head north of the Arctic circle to Levi, Finland for our epic winter driving experience!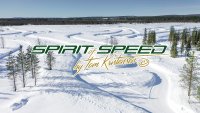 There are plenty of winter driver trainings on offer, but no one offers what we offer!
In short – our Spirit of Speed Arctic winter driving experience is always going beyond. Long action-packed days, reaching and exceeding limits, night rally stages, individual coaching, 30+ ice rally track combinations - no flat boring lake driving but real forest rally tracks. Our air-cooled Porsche 911 Rally Editions deliver the pure driving experience in combination with the World Rally Championship tires created for the ultimate ice driving experience! Simply learn from the best: from 9-times Le Mans winner Tom Kristensen himself and our carefully selected Nordic race and rally instructors.

Watch Video

It was announced that Finland will open its borders to leisure travel starting from November 23rd, 2020 so why not treat yourself to an exciting ice driving experience within a safe bubble in the remoteness of Lapland?

Of course, your safety is our highest priority and we will create a sealed "bubble" for you to avoid contact with more people than needed. With our small groups, chalet-style accommodation and individual approach with 1 instructor per car we already have an advanced set-up compared to other offers out there. In addition, the regulations of the Finnish authorities that each traveler needs to have proof on arrival in Finland of a negative Covid-19 test result no older than 72 hours and possible fast tests on entry, will make it even safer for everyone! No matter what we will also provide Covid-19 Fast Tests as well as Covid-19 Anti-body Tests giving the results after 15 minutes upon your arrival at our Villas. Once guests and team have passed those everyone is invited to "enter" our bubble!

We will be "isolated" from the rest of the world but you will be able to enjoy the best driving experience on the planet!

Explore what Spirit of Speed by Tom Kristensen is all about!

• Arctic Control: January 11-14, 2021
• Arctic Control: January 13-16, 2021
• Arctic Race: January 15-18, 2021

Flexible and free cancellation terms apply at least up to December 1st, 2020.

REGISTER NOW!

DISCOVER

ALL BOOKABLE ADVENTURES:

LAKE BAIKAL
(12th-18th March, 2021)

Siberia is one of those places that most have heard about and only a few have visited voluntarily. With Beyond Adventure we make it possible to go straight on to the nature highlight of the region, Lake Baikal. We always do things the spectacular way… You get the keys to an air-cooled Porsche 911 fitted with special ice tires and being guided driving on the 2-meter thick crystal clear 31.000 km2 large ice cube! Staying in warm Yurts on the lake! Yes, this is adventure pure!
Read more >

DENMARK GOURMET SPECIAL
(19th-25th June, 2021)

Enjoy world-class food at the world's best restaurants combined with an unusual visit to this fairytale country! We have created the "Denmark Gourmet Special" to attract those of you who see food as more than a necessity to survive. In addition to the gourmet experience also experience the hidden beauties of our little kingdom. Denmark is calling you to discover clean air, amazing food and good vibes! Drive your own car, air-cooled Porsche 911s or Porsche Cayennes.
Read more >


AFRICAN HIGHLANDS
(29th June–8th July, 2021)

Ready for the close encounter with endangered mountain gorillas? Some describe this experience as spiritual! This is an Adventure for all with a desire to see the real Africa. Get up close with the amazing African wildlife, but as always, we add the "Beyond Adventure magic" to it. Experience the unexpected cleanliness of Rwanda spiced up with the capturing vistas of never-ending tea plantations. Continue to Uganda which surely is more "Africa". That is the ultimate safari - hard ever to top.
Read more >


ALPS-CROSSING
(16th-21th July, 2021)

We have paired up with Elferspot so that the Alps-Crossing is truly a bucket-list-worth experience you never thought possible! Routes passing the highest mountains in Europe using mostly unknown gravel passages far from the average tourist routes. Challenging roads and endless mountain passes – routes we hardly believe exist so close to the civilized world right in the heart of industrial Europe. We do offer our specially prepared air-cooled Porsche 911s and Porsche Cayennes if more comfort is requested.
Read more >
>> Click here to share Beyond Adventures with Friends and Family!