Sie sind hier:

Rwanda & Uganda:
The Pearl of Africa is now open again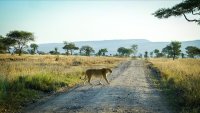 After many months of closed borders Rwanda and Uganda have opened! We cannot wait for our Beyond Adventure African Highlands finally to happen! Secure yourself a seat and join us August 27th – September 5th, 2022 on this exceptional Driving Adventure. It will wake your inner adventurer when driving along the famous red African gravel roads, raise your pulse when getting up close and personal with fascinating wildlife and mountain gorillas and make you relax when enjoying the world-class accommodation.
Beyond Adventure African Highlands offers an entirely new spin on an African adventure and safari and it never ceases to amaze. Spend 10 days exploring remarkable Rwanda & Uganda on this self-drive adventure in the heart of Africa.

Start out in Rwanda's capital Kigali with its colorful past, present and future before heading towards Rwanda's mountainous landscapes and volcanic peaks of the Virunga Mountain Range on impressive, winding roads. The views of this remote region are truly awe-inspiring. Enjoy world-class overnights and the laidback luxury at One & Only Nyungwe House and One & Only Gorilla's Nest.
One of the most rewarding and exclusive wildlife experiences is waiting and surely one of the highlights of this Beyond Adventure. Join expert trackers to make your way through the mysterious intimacy of the rainforest, weaving through overhanging vines to encounter the majestic Mountain Gorillas. But it's not just about seeing wildlife, but protecting it too as we introduce you to the important conservation work that is being done to protect these beautiful species and the environment.
But the entire adventure is much more than the Mountain Gorillas. Once crossed the border to Uganda we head towards the Queen Elizabeth National Park, where we will also track the famous tree-climbing lions. Also expect to see other cats, elephants, hippos, chimpanzees, crocodiles, buffaloes, and plenty of antelope species.

Look forward to driving through marvelous landscapes with volcanic mountains, lush jungles, tea plantations, never-ending savannah, lakes and the mighty Nile River. Simply views over imagination. And don't expect to be only driving in remoteness - you will meet many smiling locals dressed colorful and complementing the real African experience.
We offer what most only dare to dream about. A one-of-a-kind opportunity to drive individually and at your own pace, but always have the support team close-by. This is all possible with our Classic Rally Style using our specially created and well-proven navigation concept.
When arriving in Entebbe you will truly be amazed by an unforgettable expedition. The Beyond Adventure way - perfectly combined driving adventure, excitement and relaxation at the perfect hideaways. There is no better place than only the best.
JOIN US FOR THIS INSPIRING
BEYOND ADVENTURE AFRICAN HIGHLANDS!

Get into your Toyota SUV and start the engine
From Kigali, Rwanda to Entebbe, Uganda. 10 days (8 driving days) | ~ 2,000 KM

August 27th – September 5th, 2022
DISCOVER MORE
BEYOND ADVENTURES IN 2022:

DENMARK GOURMET SPECIAL
(18th - 24th June, 2022)

Enjoy world-class food combined with an unusual visit to this fairytale country - home of the phenomena "hygge" - a unique state of mind which according to some can only be experienced here!

Read more >

ALPS-CROSSING
(5th - 11th July, 2022)
(14th - 20th July, 2022)

Astonishing views, challenging gravel roads, inspiring places and a unique fleet of air-cooled Porsche 911s. The Alps-Crossing you never knew possible! Let Beyond Adventure take you to the new heights in the heart of Europe.

Read more >