Sie sind hier:

Rwanda & Uganda
Your next bucket-list destination is calling: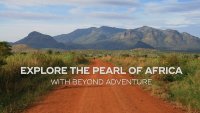 Join Beyond Adventure African Highlands
August 31-September 9, 2021

The wild Spirit of Adventure is calling! Not only do we make the "impossible" possible and offer what most only dare to dream about: A one-of-a-kind opportunity to self-drive in the heart of Africa – through Rwanda & Uganda! It will wake your inner adventurer when cruising along the famous red African gravel roads and raise your pulse when getting up close and spotting endangered wildlife in the unfenced national parks!
Look forward to driving through marvelous landscapes with volcanic mountains, lush jungles, tea plantations, never-ending savannahs, diverse flora and fauna, lakes and wild rivers. Simply views over imagination. And don't expect to be only driving in remoteness - you will meet many smiling locals dressed colorful and complementing the real African experience.
A true highlight full of elation is waiting for you - once-in-a-lifetime and truly transformational. Up in the Virunga volcanic mountains you will be hiking through misty bamboo forest and will be able to track and get face-to-face with endangered Mountain Gorillas who roam in this habitat and languish in their troops. You will be captivated and enlightened as they go about their day, unperturbed. It's a bucket-list encounter that will stay with you always.
For Beyond Adventure our unbroken aim is to always select the best available accommodation. In Rwanda and Uganda we have some world-class and memorable lodges and escapes along the route. After long days of driving and unlimited impressions around you the perfect hideaways to relax and to let your mind and body recharge. And there is no better place than only the best.
Do you prefer treetop-skimming luxury villas secluded in wonderfully untamed greenery? Or do you like it even more wild on a small island in the middle of the mighty river Nile?

Get inspired and have a look at some of the overnights awaiting you:

- One & Only Resorts - Gorilla's Nest
- Nile Safari Lodge

You will truly be amazed by an unforgettable expedition. The Beyond Adventure way - perfectly combined driving adventure, excitement and relaxation which lets you fully enjoy this awe-inspiring African continent.
Join us for this inspiring
Beyond Adventure African Highlands!

10 days (8 driving days) | ~ 2,000 KM
August 31 – September 9, 2021
DISCOVER MORE BEYOND ADVENTURES
ALPS-CROSSING (24th - 30th July, 2021)
(16th - 22nd July, 2021 - SOLD OUT)

Astonishing views, challenging gravel roads, inspiring places and a unique fleet of air-cooled Porsche 911s. The Alps-Crossing you never knew possible! Let Beyond Adventure take you to the new heights in the heart of Europe.

Read more >
AFRICAN HIGHLANDS (31st August – 10th September, 2021)

Welcome to the highlands of Africa - the home of the mountain gorillas, volcanoes, lakes and never-ending savannahs. This continent has a lot to offer!

Read more >
GEORGIA (17th – 24th September, 2021)

An amazing country at the crossroads of Europe and Asia, where ancient meets modern. Here you find nonstop positive and welcoming hospitality. When adding the breathtaking landscapes and nature not spoiled by humans do make Georgia a must-see destination.

Read more >
DENMARK GOURMET SPECIAL(NEW DATE: 19th - 25th, June 2022)

Enjoy world-class food combined with an unusual visit to this fairytale country - home of the phenomena "hygge" - a unique state of mind which according to some can only be experienced here!

Read more >
We are currently reworking our 3-year post Covid event-plan. Stay tuned for more Beyond Adventure announcements to come very soon!