Sie sind hier:

GOING BEYOND INTO THE HIDDEN GEMS OF MOROCCO
Your extreme driving adventure awaits: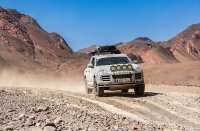 An overland journey through a raw and varied landscape of undulating desert dunes, soaring mountains, and vibrant cities awaits you in 2024.

Beyond Adventure Extreme Morocco – Join Beyond Adventure on this remarkable adventure through the delights of Morocco, bringing together the sights and sounds of this fantastic North African destination. Taking place in April and May 2024, this is your chance to discover more than the well-trodden paths of the country, all from behind the wheel of the tailormade KALMAR fleet of specially-prepared, adventure-ready Porsches.
Starting (and ending) the adventure in Marrakech, exploring the bustling souks and twisted alleys of the city, the breath-taking scenic beauty of the Atlas Mountains follow, packed with all the magical charm that makes Morocco so mesmerizing. There you'll be able to explore the mountain roads and enjoy the magnificent views of snow-capped peaks and lush valleys. You'll be relaxed in the knowledge that your dedicated Beyond Adventure team has chosen the perfect combination of challenging routes with a diverse mix of tarmac, endless gravel, and sand, all based on countless hours of research and experience.
Seeing all that Morocco has to offer, during this Moroccan trip you'll be driving a specially prepared Porsche engineered by the leading team at KALMAR Automotive. Built for adventure and capable of delivering supreme on- and off-road performance, the wilderness of the Sahara Desert is waiting to be discovered in your own KALMAR RS 911 or KALMAR CS Cayenne - navigating ambitious and demanding dunes by day and watching the sunset over the golden sand under the magical sky by night.
Constantly striving to push the boundaries of what it means to embark upon a driving adventure, KALMAR Beyond Adventure will challenge you, the driver, and the car, all while offering the ultimate respite and relaxation. With specially selected accommodations and memorable desert camps available along the route, this Arabian Nights adventure is the perfect place to start the engines for an incredible Classic Rally-style experience.
The ultimate adventure to Morocco; is an utterly spell-binding journey through the Atlas Mountains and the Sahara desert that is guaranteed to be unforgettable.

JOIN THE BEYOND ADVENTURE EXTREME MOROCCO

08th April - 15th April, 2024 (sold out)
17th April – 24th April, 2024
27th April – 04th May, 2024
OUR FLEET
Extraordinary driving adventures demand extraordinary vehicles perfectly suited for the challenges.

Porsche 911 (964/993) KALMAR RS
Re-engineered well-proven Porsche 964/993 so they can be used in adventurous environments normally not visited. Rally prepared, special wheels, roll cages, underbody protection, lifted rally shock absorbers etc.


Porsche Cayenne KALMAR CS
Made for adventure and delivering off-road performance beyond your expectations and simply tailored for challenges for epic overland driving! Full underbody and front protection, mud-terrain tires, light weight reduction etc.
DISCOVER MORE BEYOND ADVENTURES:
AFRICAN HIGHLANDS
September 23rd - October 2nd , 2023
Welcome to the highlands of Africa - the home of mountain gorillas, volcanoes, lakes, and never-ending savannahs. This continent has a lot to offer!
Read more >

SPIRIT OF SPEED ARCTIC
6 waves in January 2024
A thrilling combination of real ice and rally tracks becomes the ideal playground to challenge yourself and "your" rally prepared air-cooled Porsche on WRC tires. Why not experience the real deal, where you can to push the cars to their limits?
Read more >

NAMIBIA
July 27 - August 5, 2024
Get ready for one of the greatest safari driving adventures in the world and most stunning desert landscapes in Africa.
Read more >
STAY TUNED FOR MORE BEYOND ADVENTURES TO COME!