Sie sind hier:

EXPERIENCE OUR BEAUTIFUL WORLD
with an AIR-COOLED SAFARI PORSCHE 911 or PORSCHE CAYENNE!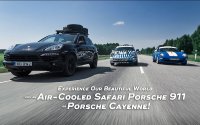 To experience the world by travelling attracts many. Beyond Adventure is all about exploring the world on passionate and unique driving adventures. Getting from A to B shall become an experience not just transport. We offer you to explore bucket list destinations. All behind the steering wheel of specially prepared cars ready for the challenges.

If you are craving for new experiences and new challenges or looking for inspiration for your next adventure exploring our wonderful world, keep reading how you can experience life lasting memories together with Jan Kalmar Beyond Adventure.

Look here what is awaiting you at this very moment:
SPIRIT OF SPEED ARCTIC
(11th-18th January, 2021)

We are extremely proud of this new addition to our entire universe! The Spirit of Speed by Tom Kristensen has been concepted to offer the best performance oriented driving experiences on Track, Ice and Sand. Created by Tom Kristensen who with his 9-times overall Le Mans 24H victories is undoubtedly the best sportscar endurance driver the world has ever seen! Only here can you benefit from Tom's wealth of skills and experience! We start out with the Arctic winter driving programs which will be followed by track and desert experiences.
> Buckle up and see how - click here.
LAKE BAIKAL
(12th-18th March, 2021)

Siberia is one of those places that most have heard about and only a few have visited voluntarily. With Beyond Adventure we make it possible to go straight on to the nature highlight of the region, Lake Baikal. We always do things the spectacular way… You get the keys to an air-cooled Porsche 911 fitted with special ice tires and being guided driving on the 2-meter thick crystal clear 31.000 km2 large ice cube! Staying in warm Yurts on the lake! Yes, this is adventure pure!

> Ready for ice? - click here.
DENMARK GOURMET SPECIAL
(19th-25th June, 2021)

Enjoy world-class food at Noma, Alchemist and Geranium combined with an unusual visit to this fairytale country! We have created the "Denmark Gourmet Special" to attract those of you who see food as more than a necessity to survive. Beyond Adventure is all about exploring the world on passionate and unique driving adventures, in addition to the gourmet experience also experience the hidden beauties of our little kingdom. Denmark is calling you to discover clean air, amazing food and good vibes! Drive your own car, air-cooled Porsche 911s or Porsche Cayennes.

> Get an appetite - click here.


ALPS-CROSSING
(16th-21th July, 2021)

We have paired up with Elferspot so that the Alps-Crossing is truly a bucket-list-worth experience you never thought possible! Routes passing the highest mountains in Europe using mostly unknown gravel passages far from the average tourist routes. Challenging roads and endless mountain passes – routes we during the planning trip could hardly believe exist so close to the civilized world right in the heart of industrial Europe. You feel like you just landed on the moon - not what most expect from Europe. We do offer our specially prepared air-cooled Porsche 911s and Porsche Cayennes if more comfort is requested.

> Learn why this Adventure took us by storm - click here.
AFRICAN HIGHLANDS
(29th June–8th July, 2021)

Ready for the close encounter with endangered mountain gorillas? Some describe this experience as spiritual! This is an Adventure for all with a desire to see the real Africa. Get up close with the amazing African wildlife, but as always, we add the "Beyond Adventure magic" to it. Experience the unexpected cleanliness of Rwanda spiced up with the capturing vistas of never-ending tea plantations. Continue to Uganda which surely is more "Africa". That is the ultimate safari - hard ever to top.

> Click here to find out why.


>> Click here to share Beyond Adventures with friends and Family!

If you are looking for something you don't find here - then please let us know - we love the challenge of finding new and amazing Adventures.

LEAVE US A MESSAGE