Sie sind hier:

DISCOVER THE ALPS
LIKE NO ONE EXPECTED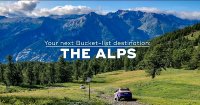 As many of us dream of future adventures, our Beyond Adventure Alps-Crossing seems so tantalizingly close that we can almost feel the gravel roads and mountain passes under the wheels. It is the perfect time to start planning your first gateway in a while, as summer is slowly approaching in Europe!
Beyond Adventure Alps-Crossing – you may say what is so extraordinary about the Alps? It is truly a bucket-list-worth experience you did not know about. Find your way among the highest mountains in Europe using nearly unknown passages and not the tourist Alps many know. Far from beaten tracks of ski-resorts and well-known places. Drive amazing but challenging gravel roads and mountain passes. Discover surprising spots where endless serpentine roads are hidden between the 100 Alps' peaks higher than 4,000m. We ourselves could hardly believe these amazing routes exist so close to the civilized world, and this is usually a good indicator that this is special.
Enjoy astonishing views that will take your breath away and fill your days with evenly shared adrenaline and relaxation and take a well-deserved rest at our specially selected authentic overnight stays. All of this behind the steering wheel of our specially developed Porsche 911 (964/993) KALMAR RS or Porsche Cayenne KALMAR CS. An adventure hard to believe.
Join us for this unexpected Beyond Adventure Alps-Crossing!

July 16th – 22nd, 2021 SOLD OUT
July 24th – 30th, 2021

In 6 days from Nice, France to Stuttgart, Germany | ~ 1,175 KM
OUR FLEET

Extraordinary driving adventures demand extraordinary vehicles perfectly suited for the challenges.

Porsche 911 (964/993) KALMAR RS

Re-engineered well-proven Porsche 964/993 so they can be used in adventurous environments normally not visited. Rally prepared, special wheels, roll cages, underbody protection, lifted rally shock absorbers etc.

Porsche Cayenne KALMAR CS

Made for adventure and delivering off-road performance beyond your expectations and simply tailored for challenges for epic overland driving! Full underbody and front protection, mud-terrain tires, light weight reduction etc.
DISCOVER ALL
2021 BOOKABLE ADVENTURES:
DENMARK GOURMET SPECIAL(19th - 25th, June 2021)

Enjoy world-class food combined with an unusual visit to this fairytale country - home of the phenomena "hygge" - a unique state of mind which according to some can only be experienced here!

Read more >

AFRICAN HIGHLANDS (31st August – 9th September, 2021)

Welcome to the highlands of Africa - the home of the mountain gorillas, volcanoes, lakes and never-ending savannahs. This continent has a lot to offer!

Read more >


ALPS-CROSSING (24th - 30th July, 2021)
(16th - 22nd July, 2021 - SOLD OUT)

Astonishing views, challenging gravel roads, inspiring places and a unique fleet of air-cooled Porsche 911s. The Alps-Crossing you never knew possible! Let Beyond Adventure take you to the new heights in the heart of Europe.

Read more >

GEORGIA (17th - 24th September, 2021)

An amazing country at the crossroads of Europe and Asia, where ancient meets modern. Here you find nonstop positive and welcoming hospitality. When adding the breathtaking landscapes and nature not spoiled by humans do make Georgia a must-see destination.

Read more >