Sie sind hier:

DISCOVER BEYOND ADVENTURE
EXPLORE INCREDIBLE PLACES AROUND THE WORLD ON FOUR WHEELS!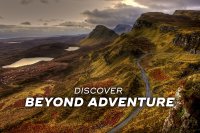 Drive and navigate mostly independently, count seconds, score points while driving backroads and off the beaten path on all kinds of terrain - experience what Jan Kalmar Beyond Adventure is all about! Sharing with you a list of adventures you can get inspired from for your coming year's explorations. After this year when nothing is certain, we invite you to plan your next years to be filled with life-lasting memories.

Pick the adventure and we'll do the rest!
SPIRIT OF SPEED ARCTIC
(11th -18th January, 2021)
A thrilling combination of real ice and rally tracks becomes the ideal playground to challenge yourself and "your" air-cooled Porsche 911. Why not experience the real deal, where you can to push the cars to their limits?
Read more >
LAKE BAIKAL
(12th -18th March, 2021)
This exceptional Adventure gives you the opportunity to experience the frozen Lake Baikal, and why not go all the way and do it in a specially prepared classic Porsche 911?
Read more >
DENMARK GOURMET SPECIAL
(19th - 25th June 2021)
Enjoy world-class food combined with an unusual visit to this fairytale country - home of the phenomena "hygge" - a unique state of mind which according to some can only be experienced here!
Read more >

AFRICAN HIGHLANDS
(29th June–8th July, 2021)
Welcome to the highlands of Africa - the home of the mountain gorillas, volcanoes, lakes and never-ending savannahs. This continent has a lot to offer!
Read more >

ALPS-CROSSING (16th -21th July, 2021)
Astonishing views, challenging gravel roads, inspiring places and a unique fleet of air-cooled Porsche 911s. The Alps-Crossing you never knew possible! Let Beyond Adventure take you to the new heights in the heart of Europe.
Read more >


BALTICS
The three tiny countries Lithuania, Latvia, and Estonia could easily make it onto the list of the most underrated travel destinations in Europe. Discover Northern Europe's best-kept secret in our unique Beyond Adventure Porsche Fleet!
Read more >

GEORGIA
An amazing country at the crossroads of Europe and Asia, where ancient meets modern. Here you find nonstop positive and welcoming hospitality. When adding the breathtaking landscapes and nature not spoiled by humans do make Georgia a must-see destination.
Read more >

PATAGONIA
A vast region sparsely populated at the southern end of the South American continent with a stunning mixture of endless gravel and tarmac roads surrounded by the wild nature, untamed coastlines and world of finest wine areas.
Read more >

CENTRAL AMERICA
Panama, Costa Rica, Nicaragua - a vibrant patchwork of countries, cultures and ancient civilisations. Enter a world full of stunning landscapes, tropical atmosphere, challenging routes and exciting terrain - far from the beaten track.
Read more >

SOUTH AMERICA
This vastly under-explored continent was once home to some of the world's oldest civilizations. The continent's sheer geographical scale and diversity is striking and for sure worth to see and explore.
Read more >

AUSTRALIA

Australia is travel heaven. This remote, fascinating continent does offer a one-of-a-kind destination. The Northern Territory is quintessential Australia with its stirring landscapes, abundant wildlife and sacred aboriginal sites reflecting all that is unique and beautiful about this continent.
Read more >

BHUTAN
Discover the country using backroads to untouched villages while enjoying the most beautiful sights. Let yourself be surprised and expect the unexpected.
Read more >

INDIA
India is a land of diversity and you will explore the varieties of this great country at first hand from "your" car. From the 20-million population mega-city Delhi with its clash of historic and modern culture all the way to the lush forests, vast country land and the highest motorable road in the world!
Read more >


UPPER MUSTANG
Is all about exploring stunning valleys, spectacular mountain views and the unique ethnic culture of Nepal! Upper Mustang is vast, arid, and one of the few places left on earth where one might truly escape to an authentic Tibetan enclave.
Read more >

Contact us for more information!
>> Click here to share Beyond Adventures with Friends and Family!