Sie sind hier:

Create your own image of this untouched country!
Beyond Adventure Georgia 2021: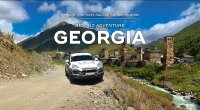 Ready to get out of lockdown mode? Dreaming of for your next adventure destination and exceptional driving experience in a Porsche 911? Full of rough roads, unusual routes and water crossings that are definitely not the common choices of the average traveler? Paired with the charm of a blooming Ex-Soviet country? Then join Beyond Adventure Georgia 2021 – explore a land full of warm-hearted locals, delicious food, lively culture and breath-taking landscapes. After our successful Beyond Adventure Georgia debut in 2019 we now bring our own fleet - our Porsche 911 (964/993) KALMAR RS and Porsche Cayenne KALMAR CS models!
Be prepared for a one-of-a-kind inspirational 7-day driving adventure through condensed areas via mountains and gravel roads, rocky driveways and real offroad tracks. Navigate through dense forests and rivers and don't forget to watch out for the rather wild traffic and unpredictable wildlife. From the fantastic Caucasus mountains of Georgia to its beautiful Black Sea coastline of Batumi in just hours.
As always all Beyond Adventure Style, discover Georgia at your own pace while enjoying the stunning surroundings and connecting with nature. The route will take you to the highest habited area in Europe – over 2000m in altitude. Highways don't exist here, and the wild will add to the excitement of your adventure. Your final destination is a vibrant city Tbilisi – the new metropole to be in and currently the most exciting city according to Forbes. A cultural melting pot for centuries with its multi-layered hub and creative spirit with irresistible energy.
The Georgia you will discover is surely not what you expect and far away from the picture most of us have from the media!
"The trip to Georgia was my first trip with Jan Kalmar Beyond Adventure and indeed it was beyond, more than 70% off-road, over 3000m altitude. Fantastic drives and landscapes combined with the best possible accommodations, delicious food and wine. What is there more to ask? Highly recommended unique drive beyond adventure. Definitely not my last trip with them!"
Frank, Singapore
Join us for this unexpected Beyond Adventure Georgia!
September 17th – 24th, 2021
MORE DETAILED INFORMATION REGISTER NOW
OUR FLEET

Extraordinary driving adventures demand extraordinary vehicles perfectly suited for the challenges.

Porsche 911 (964/993) KALMAR RS

Re-engineered well-proven Porsche 964/993 so they can be used in adventurous environments normally not visited. Rally prepared, special wheels, roll cages, underbody protection, lifted rally shock absorbers etc.

Porsche Cayenne KALMAR CS

Made for adventure and delivering off-road performance beyond your expectations and simply tailored for challenges for epic overland driving! Full underbody and front protection, mud-terrain tires, light weight reduction etc.
DISCOVER ALL

2021 BOOKABLE ADVENTURES:

DENMARK GOURMET SPECIAL
(19th - 25th, June 2021)
Enjoy world-class food combined with an unusual visit to this fairytale country - home of the phenomena "hygge" - a unique state of mind which according to some can only be experienced here!

Read more >
AFRICAN HIGHLANDS
(31st August – 9th September, 2021)
Welcome to the highlands of Africa - the home of the mountain gorillas, volcanoes, lakes and never-ending savannahs. This continent has a lot to offer!

Read more >
ALPS-CROSSING
(24th - 30th July, 2021)
(16th - 22nd July, 2021 - SOLD OUT)
Astonishing views, challenging gravel roads, inspiring places and a unique fleet of air-cooled Porsche 911s. The Alps-Crossing you never knew possible! Let Beyond Adventure take you to the new heights in the heart of Europe.

Read more >
GEORGIA
(17th - 24th September, 2021)

An amazing country at the crossroads of Europe and Asia, where ancient meets modern. Here you find nonstop positive and welcoming hospitality. When adding the breathtaking landscapes and nature not spoiled by humans do make Georgia a must-see destination.

Read more >