Sie sind hier:

BEYOND ADVENTURE BHUTAN 2022 IS OPEN FOR BOOKIN...
A spiritual drive in the Himalayas awaits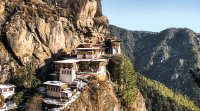 Climb the world with Beyond Adventure Bhutan – join our unique self-drive adventure in a stunning landscape mixed with incredible cultural and religious diversity and paired with carefully selected world-class accommodation and service – all in the shadow of the Himalayas and some of the highest mountains in the world.
The secrets of Bhutan are well-hidden due to the limited number of visitors allowed to enter the country and its relative geographical isolation. The few who have visited this magical place are astonished by the ancient Buddhist culture with its remote temples and fortress-monasteries in a landscape of incredible nature.
Discover the country without a single traffic light from behind the steering wheel! Use backroads to untouched villages, reaching heights close to 4,000m while enjoying the most beautiful sights and sounds of the Himalayan range. Let yourself be surprised by the colorful Himalayan Kingdom and expect the unexpected. Experience this hidden gem away from modernity while driving yourself in a local 4x4 SUV.
In addition to our one-of-a-kind driving adventure, Bhutan offers amazing award winning lodges – some of the best in the international travel industry, such as Sixsenses - Aman - Gangtey. Experience unforgettable overnights at uniquely designed lodges set in intimate locations offering the perfect blend of luxury and relaxation.
DON'T MISS OUT ON THOSE MEMORIES OF A LIFETIME!

Join our spiritual Beyond Adventure Bhutan
from May 6th to 13th, 2022
DISCOVER MORE BEYOND ADVENTURES IN 2022:
SPIRIT OF SPEED ARCTIC
(07th - 19th January, 2022)

A thrilling combination of real ice and rally tracks becomes the ideal playground to challenge yourself and "your" air-cooled Porsche 911 KALMAR RS. Why not experience the real deal, where you can to push the cars to their limits?

Read more >

MOROCCO
(30th March - 06th April, 2022)

Morocco is a place of spectacular natural scenery full of epic mountain ranges and desert! Let Beyond Adventure take you into areas you could not imagine you would reach - from highest Saharan dunes to the peaks of High Atlas.

Read more >

GEORGIA
(25th May - 02nd June, 2022)

An amazing country at the crossroads of Europe and Asia, where ancient meets modern. Here you find nonstop positive and welcoming hospitality. When adding the breathtaking landscapes and nature not spoiled by humans do make Georgia a must-see destination.

Read more >

DENMARK GOURMET SPECIAL
(19th - 25th June, 2022)

Enjoy world-class food combined with an unusual visit to this fairytale country - home of the phenomena "hygge" - a unique state of mind which according to some can only be experienced here!

Read more >

ALPS-CROSSING
(5th - 11th July, 2022)
(14th - 20th July, 2022)

Astonishing views, challenging gravel roads, inspiring places and a unique fleet of air-cooled Porsche 911s. The Alps-Crossing you never knew possible! Let Beyond Adventure take you to the new heights in the heart of Europe.

Read more >

AFRICAN HIGHLANDS
(26th August - 05th September, 2022)

Welcome to the highlands of Africa - the home of the mountain gorillas, volcanoes, lakes and never-ending savannahs. This continent has a lot to offer!

Read more >