Sie sind hier:

Air-cooled Porsches in the Arctic are calling i...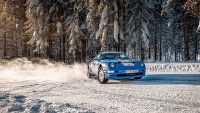 Ready to get sideways in a special rally-prepared air-cooled Porsche? Then look no further! Experience the real deal, where you can push yourself and the cars to the limit!

You will have the chance to try the KALMAR RS fleet with a wide variety of famous Porsche engine and drive concepts. Our powerful air-cooled 911 classics and water-cooled 911 young timers all have manual transmission which puts you as a driver in the focus, but we have an addition of the modern mid-engined sport version of the perfectly balanced Cayman R with the lighting fast PDK gearbox.All cars have had a significant weight reduction as well as sports seats, belts, and roll cages for your safety, and full underbody protection for limited wear on the nice bodywork. Driving aids are limited to ABS and even that can be disconnected if you feel like it, so you are all on your own.

We dare to say it is the best ice driving experience around, where you only spend time on full World Rally Championship tires with 6mm spikes – a real game changer. Your heart will beat faster while enjoying 100s of kilometer track sections for all levels on the lake, marshland, and right in the forest! You will have your personal instructor with you in the car throughout the entire event to ensure everything is suited to you! Why settle for anything less than the best? In addition, all is taken care of for you from arrival at the Rovaniemi airport until you depart! Look forward to a full service package where not just the cars and driving is a class of its own – also our accommodation. We have our own private lodge with a unique blend of modern Nordic design and comfort right on the Arctic Circle. Enjoy Arctic luxury after long days of driving! Relax together with your fellow drivers while your private chef prepares your delicious local foods – the pure definition of luxury and Arctic wilderness is waiting!
Get into the racing seat and experience the real deal
on snow and ice with Spirit of Speed Arctic!
Arctic Control | 15 - 18 January 2024
Arctic Control | 18 - 21 January 2024 – sold out
Arctic Control | 21 - 24 January 2024
Arctic Race | 24 - 27 January 2024
Arctic Race | 27 - 30 January 2024 – sold out
Arctic Control | 30 January - 2 February 2024
DISCOVER MORE BEYOND ADVENTURES:
AFRICAN HIGHLANDS
September 23rd - October 2nd , 2023
Welcome to the highlands of Africa - the home of mountain gorillas, volcanoes, lakes, and never-ending savannahs. This continent has a lot to offer!

Read more >

MOROCCO
April 8 - 15, 2024 - Sold out
April 17 - 24, 2024
April 27 - May 4, 2024

Morocco is a place of spectacular natural scenery full of epic mountain ranges and deserts! Let Beyond Adventure take you into areas you could not imagine you would reach - from the highest Saharan dunes to the peaks of the High Atlas.

Read more >

NAMIBIA
July 27 - August 5, 2024
Mind-blowing landscapes, wildlife safaris, vast open
spaces and untouched nature... Get ready for one of the greatest safari driving adventures in the world!

Read more >
STAY TUNED FOR MORE BEYOND ADVENTURES TO COME!