Sie sind hier:

A culinary Adventure to visit some of the best ...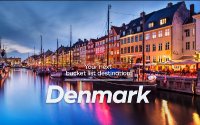 Beyond Adventure Denmark Gourmet Special - a unique combination of enjoying world-class food and stunning narrow country roads and views from behind the steering wheel of our Porsche 911 (964/993) KALMAR RS and Porsche Cayenne KALMAR CS.

Look forward to a 7-day culinary adventure designed to visit some of the best restaurants in the world and to experience the less visited places in this inviting Nordic country. Despite Denmark with its only 45.000 km2 is tiny, you will encounter the most magnificent backroads. We set out to avoid all highways and succeeded!
On this Adventure we start in Copenhagen where you will get insights into some of the hidden and unexpected places but also the nicest locations around the capital. After being accustomed to the Danish rhythm it is time to leave Copenhagen behind and of course in style - a private sea plane will take us to the Island Fyn where the driving adventure and easy travel will begin.
You will be truly amazed by all the stunning narrow country roads selected and the views awaiting! During our drive you will not only stop at the highest point in Denmark – which happens to be the bridge tower of one of the largest bridges in the world but also experience the well-known Scandinavian "white nights" as the sun won't really set on those days of the year when you will be there.
The Danish cuisine of course is a chapter of its own, you simply will have to explore it yourself! Just recently two restaurants in Denmark have been voted the top 2 in the world! So enjoy world-class food while finding pleasure in the phenomena "hygge" which does not translate to any other language - it is unique to Denmark and the pure combination of happiness and coziness... Resulting in Denmark being many times awarded the happiest country in the world.
As you can see Denmark is more than Vikings and Hans Christian Andersen – it is calling you to discover clean sea-air, country roads, amazing sites, unforgettable taste explosions and happy vibes!
Join us for this culinary Beyond Adventure Denmark!
June 19th – 25th, 2022

OUR FLEET
Extraordinary driving adventures demand extraordinary vehicles perfectly suited
for the challenges.
Porsche 911 (964/993) KALMAR RS
Re-engineered well-proven Porsche 964/993 so they can be used in adventurous environments normally not visited. Rally prepared, special wheels, roll cages, underbody protection, lifted rally shock absorbers etc.
Porsche Cayenne KALMAR CS
Made for adventure and delivering off-road performance beyond your expectations and simply tailored for challenges for epic overland driving! Full underbody and front protection, mud-terrain tires, light weight reduction etc.

DISCOVER ALL
2022 BOOKABLE ADVENTURES

SPIRIT OF SPEED ARCTIC
(07th - 19th January, 2022)

A thrilling combination of real ice and rally tracks becomes the ideal playground to challenge yourself and "your" air-cooled Porsche 911 KALMAR RS. Why not experience the real deal, where you can push the cars to their limits?

Read more >

MOROCCO
(30th March - 06th April, 2022)
Morocco is a place of spectacular natural scenery full of epic mountain ranges and deserts! Let Beyond Adventure take you into areas you could not imagine you would reach - from the highest Saharan dunes to the peaks of the High Atlas.

Read more >

BHUTAN
(06th - 13th May, 2022)

A spiritual Drive in the Himalayas - Discover the country using backroads to untouched villages while enjoying the most beautiful sights. Let yourself be surprised and expect the unexpected.

Read more >

GEORGIA
(25th May - 02nd June, 2022)

An amazing country at the crossroads of Europe and Asia, where ancient meets modern. Here you find nonstop positive and welcoming hospitality. When adding the breathtaking landscapes and nature not spoiled by humans do make Georgia a must-see destination.

Read more >

ALPS-CROSSING
(5th - 11th July, 2022)
(14th - 20th July, 2022)

Astonishing views, challenging gravel roads, inspiring places and a unique fleet of air-cooled Porsche 911s. The Alps-Crossing you never knew possible! Let Beyond Adventure take you to the new heights in the heart of Europe.

Read more >

AFRICAN HIGHLANDS
(27th August - 05th September, 2022)

Welcome to the highlands of Africa - the home of the mountain gorillas, volcanoes, lakes and never-ending savannahs. This continent has a lot to offer!

Read more >