Sie sind hier:

15 presses from Schuler for the US and Mexico
Weingarten site wins a major order from automotive supplier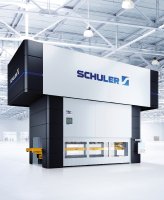 The package with 15 machines which the US automotive supplier ordered from Schuler will contain transfer presses, among others
[...]
Schuler has received a major groundbreaking order from a US automotive supplier. The world's largest press manufacturer will deliver a total of 15 machines including automation with a press force between 400 and 2,000 tons to the customer's sites in the US and Mexico. The package will include transfer, ProgDie and stamping presses. The Schuler Weingarten site played a substantial role in acquiring the major project.
"This is an important order for our team in Weingarten and proves once again that we have competitive international expertise at this site," explains Managing Director Johannes Linden, who heads the Division Industry located there. "With quality and dedication, we have shown that we here in Weingarten are very much capable of winning major international orders. This clearly underlines the business potential inherent in our excellent team."
This is the fourth order from this customer within two years: In 2015 and 2016, the US supplier already ordered several transfer presses including automation.