Sie sind hier:

New Android Apps, touchable drag and drop on ho...
We build new Android Apps and reworked our homepage graphical design page to enable touch device to work with our calculation programs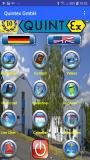 We have build new and helpful Android® Apps and we optimized our webpage as well.
To make work with our Android® Apps easier we developed an 'Operation center' for all users. Now you don't have to search for the Apps and calculation programs of Quintex. Just download the 'Operation Center Quintex' from Google play store or directly as an 'apk-file' from our webpage. After installation you will find a lot of helpful tools around explosion protection and Quintex. You can do direct appointments with our sales or you can directly dial our phone number to get our order management department. If you have an urgent and/or actual question use our chat.. touch the button on your app and it will open our chat line for you to us.
You want to see our webshop- no problem with one touch you will open the webshop and you can use it from your mobile. But not only to buy products but also as an inquiry form.
If you want to read our manuals based on our products you can open the pdf file where ever you are.
But also interesting links for explosion protection professionals are included: search for IECEx certficates, read the ATEX directive and and and..
This is the link to the Quintex Apps in Google play store:
https://play.google.com/store/apps/dev?id=6536909318899349867
and this is direct the link to 'Quintex operation center'
https://play.google.com/store/apps/details?id=appinventor.ai_gschmahl1005.Quintex
And here you can directly download all 'APK-Files' from our homepage:
https://www.quintex.eu/en/apps-en.html
You must allow installation from an 'unknown source' (but it's easy to do)
You don't have Android® mobiles?
No problem: for all those who are not able to use this Apps we reworked our graphical design software to make it touchable. Under HTML5 touch device (i-phones,ipads,, tablet window mobiles and tablet etc..) are now able to use this special calculation software. Because the homepage have a responsive design (since 10 years now) it is possible to drag and drop local control functions to the right place on a pre-defined canvas. It is so easy to use you can define and design your local control box in seconds; with functions, glands and labels as well.
Try it: here ist he link to the graphical design page.:
https://www.quintex.eu/en/local_control_calc.html
After defined the needed amount of functions you will directly lead to the graphical design.
Try it and see how this page ease your daily work.
Ansprechpartner
Parviz Etemadi
+49 (160) 90102407
Zuständigkeitsbereich: Deutschland Nord
Michael Knögel
+49 (9343) 6130-221
+49 (9343) 6130-105
Zuständigkeitsbereich: Produktmanager
Kathrin Neumann
+49 (9343) 6130-123
+49 (9343) 6130-105
Zuständigkeitsbereich: International Sales support
Dave Redfern
+49 (9343) 6130214
+49 (9343) 6130105
Zuständigkeitsbereich: UK Sales
Peter Volz
+49 (151) 46176743
Zuständigkeitsbereich: Deutschland Mitte
Sascha Schwinghammer
+49(0)9343 6130 217
Zuständigkeitsbereich: PM
Simon Michelbach
+49(0)9343 6130 218
Zuständigkeitsbereich: International Sales A-B-CH-NL